10th May 2016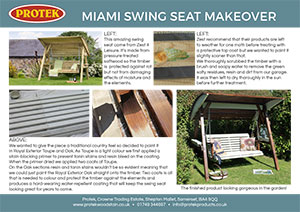 Our friends at Zest 4 Leisure sent us their rather amazing Miami Swing Seat for a Protek makeover.
Whilst the swing seat looks very pretty it is made from tanalised timber so it's protected from rot and fungi but is not water-repellent, meaning that the timber is still exposed to effects of weather and UV damage.
Because this furniture has a lot of horizontal surfaces on it we selected Royal Exterior as a protective coating as it is the most durable from our retail range. We chose to decorate it in a mixture of Oak and Taupe giving it a touch of traditional sophistication along with a light modern feel.
As we were painting new treated softwood with a light Taupe shade, we applied a base stain-blocking primer to the seat to stop any staining occurring on the coating.
We are delighted with the results and the Miami Swing Seat is now not only protected from the elements for years to come but also provides us with a beautiful seating area to relax and admire the garden from.
Share this product