18th Sep 2019

Love Your Garden – the biggest TV Garden Makeover show is back with more inspiring garden designs for well deserving people. We are delighted to supply our woodpaints for the 8th series to add a touch of colour.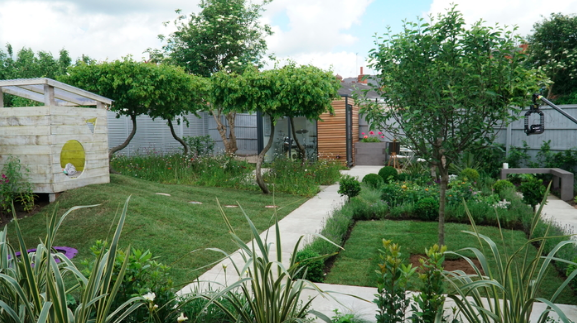 What a fabulous garden to start the new series, we can't decide if this is our favourite ever, but every episode we say 'it can't get any better' and it does.
This garden was always going to be special as it was for fellow gardener Daniel, who was diagnosed with Alzheimer's (a subject close to our heart) a terrible disease and at 32 totally shocking. We hope that Daniel and his family enjoy every minute of this beautiful garden.
We loved the different zones created; the outside kitchen and alfresco dining area were very stylish. The tree lined avenue leading to the love seat- so sweet, the outside studio come drum room and the little play house with finally the figure 8 path that always leads back home. Everything had been thought of.
Well done to the team Alan Titchmarsh, Katie Rushworth, David Domoney and Frances Tophill they did it again!!!
Alan's tips on sensory planting and creating home-made play equipment for children were simple but so effective.
The products used on the first show were from our Royal Exterior range.
Silver Grey - on the fences
Drawing Room Gold- on the playhouse
Dove Grey- planters and pergola
Cashmere -on the fences
Lots of soft and muted colours created a very calm space to relax.
Share this product