4th May 2017
Protek were pleased to be involved with the competition again this year, Writtle University College who won a gold award for their garden were crowned the 2017 'Young Gardeners of the Year '. In their design, they used Restol Wood Oil in Natural UV Extra to create the desired finish on their charred timbers.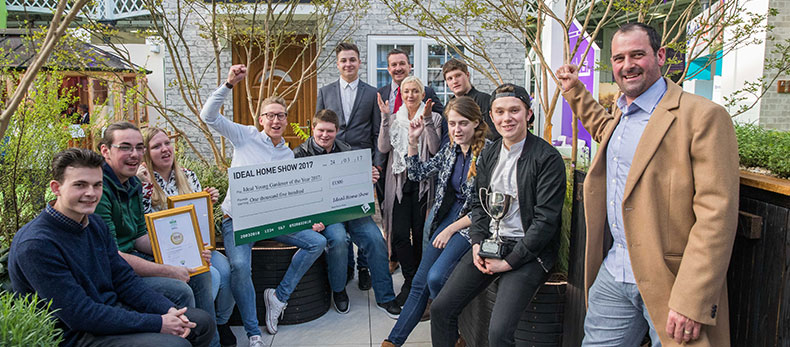 Each competing college was given a 5.5m x 4m plot to both plan and design a front garden that will demonstrate an understanding of harmony and sustainability. The young gardeners used clever plant combinations, incorporating a sense of proportion with clever use of the important vertical dimension in small, urban gardens, whilst incorporating an innovative way to store a wheelie bin. The show gardens inspired visitors of the Ideal Home Show with clever ideas they can try at home and this year the focus has been on making Britain's front gardens green again, in line with David Domoney's work on the Cultivation Street Community Gardening campaign.
Writtle University College's garden provides you with a journey to the front door that is elegant and aesthetically pleasing, with sculpture in the form of handmade planters, and dramatic multi-stemmed trees to provide year round interest.
Clean lines and block planting set against dark timbers and non-slip porcelain paving make this an attractive environment to invite community spirit to engage in social integration and promote the front garden as a space to be proud of again. The seating near the front means that you can talk with your neighbours or simply watch the world drive by; with no gate we make it an inviting home that welcomes, while the location of the planters still provide privacy and security to the front of the house.
The annual awards, which are organised by TV gardener David Domoney in association with the Prince's Foundation for Building Community, offer students a great opportunity to showcase their work and celebrate the best of sustainable British gardening. The competition, now in its seventh year, has given over 500 students the opportunity to create show gardens before they even leave the college gates.
The Mayor of London, Sadiq Khan has voiced his support for the competing colleges, saying: "This competition is a great opportunity for talented young people to use their 'green fingers' to design a garden thousands of visitors will enjoy. It could also be the start of a fantastic career in landscaping and design. In London our much loved green spaces boost the environment, improve air quality and enhance our neighbourhoods and I wish all entrants the best of luck in creating the best sustainable garden."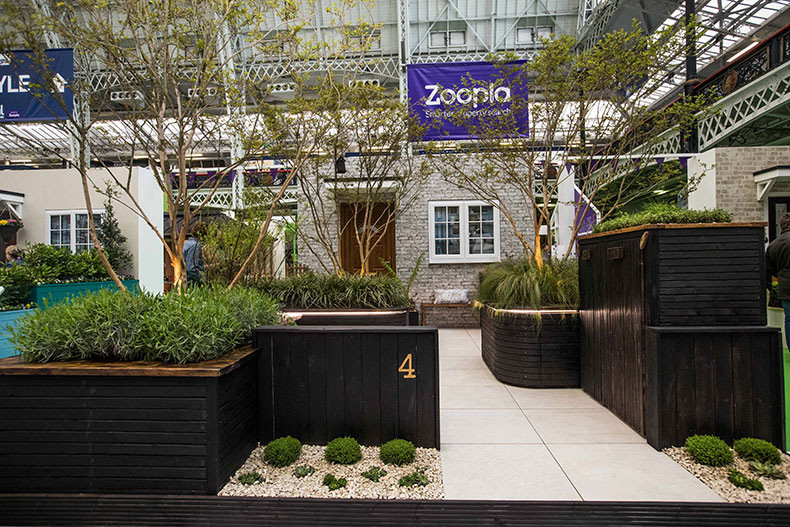 The winning garden showed homeowners all that can be achieved with a front garden, giving pleasure to those visiting the house and also brightening up the local community. It created a walkway which takes visitors away from the hustle and bustle of daily life, providing a beautiful, stress-free environment before they even walk through the door.
The annual competition, in association with the Prince's Foundation for Building Community, celebrates young 'green' talent and whittled down entries from six of the UK's leading horticultural colleges who then went head-to-head to create a show stopping sustainable garden that was seen by a quarter of a million visitors at the Ideal Home Show. Writtle University College was awarded Gold and Best in Show, Capel Manor College awarded Gold, Chichester College awarded Silver Gilt, Shuttleworth College and Pershore College awarded Silver and Askham Bryan College awarded Bronze.
The 2017 participating colleges were:
Chichester college, Sussex (2012, 2013 & 2014 Champions)
Capel Manor, Middlesex (2011 Champions)
Askham Bryan College, North Yorkshire (2016 Champions)
Pershore College, Part of the Warwickshire College Group
Shuttleworth College, Bedfordshire
Writtle University College, Essex (2015 & 2017 Champions)
David Domoney, organiser of the competition, said: "I'm immensely proud to work with The Prince's Foundation for Building Community, along with the Cultivation Street Community Gardening campaign. The Young Gardener of the Year competition offers students the opportunity to build show gardens at a national event before they even leave the college gates, which is not only fantastic practice for them, but also a great confidence-booster. These young garden designers and landscape stars of the future are encouraged to use sustainable practices, which they will confidently pass on through generations. The careful planning, hard work and effort that goes into each of the show gardens is truly inspiring, and Writtle University College's garden highlighted to the public just what can be achieved in a small front garden."
Share this product