25th Jun 2012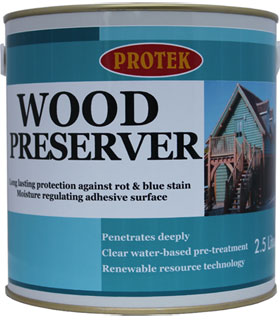 We are very happy to announce that we have developed an industry leading Wood Preserver that will soon be available to buy on the website.
Update: Protek Clear Wood Preserver has arrived.
Protek Wood Preserver is a clear water-based wood preservative based on modified vegetable oil for the pre-treatment of wood in outdoor areas, out of ground contact. It employs spirit-based technology into a water-based product, acting against wood destroying and wood discoursing fungi (blue stain and rot), according to EN152, EN113, EN73 and EN84.
Protek Wood Preserver penetrates wood easily and thereby gets deep into inner layers. It is moisture regulating and provides an adhesive surface for subsequent treatment with finishing top coats. Wood Preserver should be used on un-pressure treated timber, cut timber (as an end coat) and when original preservative coatings have expired.
Use as a base coat to protect against rot then apply a treatment from one of our Shed & Fence, Wood Protector or Royal ranges to water-proof and colour your timber!
Share this product