25th Jun 2012
Amazingly enough a number of you managed to find the time and ra
As always it was quite difficult to narrow it down to 3 winners but we did finally come to a decision. There seems to have been a theme in this competition with a lot of people creating some rather spectacular animal houses.re windows of dry sunshine, to take part in our competition. We had some fantastic entries and thank you very much to everyone who sent in their pictures.
Stripes take first place again but this time with a highly innovative and striking chicken coop, designed, built and painted by Derek Saunders from Cambridgeshire. Derek won with his picture of a beautifully constructed house for some hens that he was asked to re-home.
Ist Place
Derek used a variety of Wood Protector colours combining Poppy, Marigold, Cornflower and Amaranth to create a palace that any hen would be proud to call home! First prize of a £70 hamper brimming with local Somerset produce has been delivered to Derek who took great delight in unpacking it all.
2nd Place
A very close second place was taken by Catherine Fisher from Brighton with her stylish shed and garden furniture. Catherine used Cranberry Crush Wood Protector to decorate and protect her table and chairs, now looking very striking against the subtle tones of her shed painted in Stone Grey Royal Exterior, beautifully contrasting with the stained glass window.
3rd Place
Third place has been awarded to two entrants as we couldn't choose between them. Susanna Thomas also cheered up her chicken shed with a symphony of Wood Protector colours, whilst Peter Ernst from Homes for Wildlife sent in pictures of their ladybird boxes painted in Wood Protector Ebony and Poppy. We loved the design and they are currently selling on Amazon.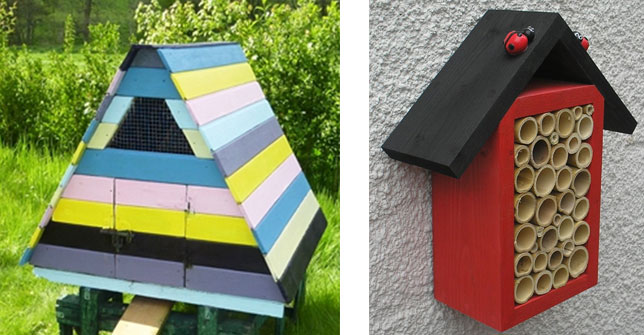 We will be running another Win With Wood competition in the near future so please do keep the pictures coming. Send them in to admin@protekproducts.co.uk and you'll be automatically entered in to the next competition.
Share this product