30th Dec 2013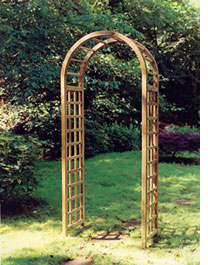 Protek's annual competition Win with Wood is open now until the end of July 2014.
The main part of the 1st prize has been very kindly donated to us by AVS Fencing, one of the largest and best fencing and landscape material suppliers in the south of England. Their Elite Arch Pergola will constitute the main part of the prize creating an instantly beautiful focal point in any garden. Please follow this link for further product details Elite Arch | AVS
Coupled with this the 1st prize winner will also receive a selection of garden goodies and Royal tins in 1 litre, 2.5 litre and 5 litre sizes from our Exterior or Interior ranges worth over £150.00.
2nd & 3rd place runners up will get a 20% discount voucher off future purchases from our online shop.
Everyone who sends in a competition picture will receive a discount voucher of 10% at our online shop to say thank you for taking the time and effort to enter.
You can send in your photos whenever you like and they will be stored until the competition closes on the 31st July and judging commences. Winners and runners up will be informed during August with official results and photos being released in the October – December newsletter.
Entries will be judged on originality and use of colours and can be complex or impressively simple. The competition is a celebration of the use of our wood stains on timber products and can showcase garden projects or interior makeovers on furniture, accessories or original works of art.

Please send your competition entries to admin@protekproducts.co.uk ensuring that your photos are as good as possible with high res images of 300 dpi or over. Remember to include your name, address, contact phone number (in case your email address changes), details of products used and any special comments about your project.

We look forward to seeing your photos and hope you have lots of fun using our wood stains!
Share this product