9th Jan 2018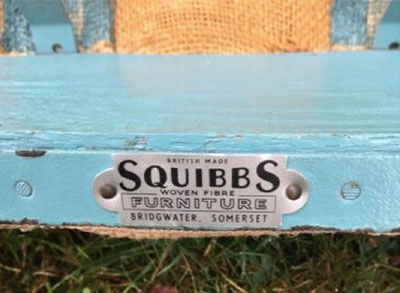 We found this vintage wicker chair for sale locally in need of some Protek TLC. It was made by Squibbs of Bridgwater, one of the basket and wicker furniture makers who were dependent on the withy growing of Athelney and the surrounding area. It is known locally as The Isle of Athelney because it was once a very low isolated island in the 'very great swampy and impassable marshes' of the Somerset Levels.
To prepare the chair for painting the legs were sanded down, the whole thing given a good wash and then left to dry in the spring sunshine. The seat was covered with plastic to prevent any mishaps and the edges masked off. We decided to use a similar colour to the original, so a 1 litre tin of Royal Exterior Superior in the vintage shade of Porcelain Blue was chosen. Two coats were painted on the legs and just one coat for the wicker itself, using a one inch brush. To paint the wicker only a small amount of the Royal was put the brush and worked in well into it, making sure none of the holes were filled.
A satisfying project for a sunny spring day.
Share this product