3rd Sep 2016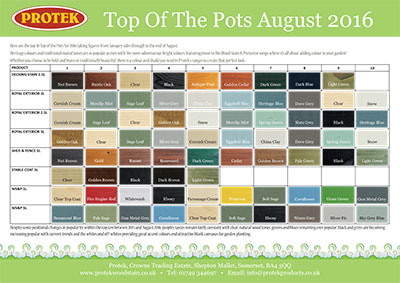 We constantly review and monitor the colours that we sell at Protek to look at current tastes and trends. Comparing our top ten bestselling colours with last year the mover and shakers are;
2.5 Litre Royal Exterior – Cornish Cream has taken top spot swopping places with Sage Leaf. Mendip Mist and Silver Grey have both moved up 2 places while Black has dropped from 6th to 9th place.
5 Litre Royal Exterior – Golden Oak is the big mover this year moving from 5th all the way to the No. 1 bestselling. Surprisingly Mendip Mist was in 3rd last year has dropped out of the top ten for the first time. Spring Green and Snow have now moved up into the top ten.
1 Litre Wood Stain & Protector – Ebony is the colour with all the moves, going from 10th last year to 4th spot while; Parsonage Cream has dropped from 2nd to 5th. Silver Fir and Lilac are out of the top ten replaced by the trendy modern tones of Gun Metal Grey and Grass Green.
5 Litre Wood Stain & Protector – For the first time Spruce has gone from the bestselling list with Lilac just missing out. There is a new appearance for the cool and contemporary shades of Silver Fir and Sky Grey Blue.
2.5 Litre Decking Stain – Clear has lost top spot and dropped down to 3rd with Rustic Oak taking 1st place.
5 Litre Shed & Fence – Russet is the main mover going from 6th to 3rd spot this year while Cedar has dropped from 4th to 6th on the bestselling list.
For the full list of the top ten bestselling colours in each range check out the Top Of The Pots August 2016.
Share this product