17th Oct 2013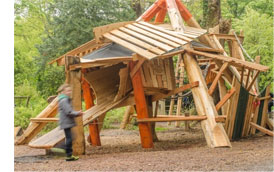 Guy Associates were commissioned by Thorp Perrow Arboretum to upgrade the existing play area in their Play Glade, and came up with another amazing creation. Alastair Guy explains: 'Using locally grown, fresh sawn timber we designed an adventure play structure for 4 to 12 year olds, in the form of a 'Beetle Bug'. Using whole larch trees as legs and a larch grid-shell construction for the body, the Beetle Bug grew into a giant climbing frame 5mts. high.
A platform, some 3mt. high built around an ancient Ash tree forms the head, and the neck is a rope bridge which connects the head to the tail, through the body. The tail is a polished wooden slide.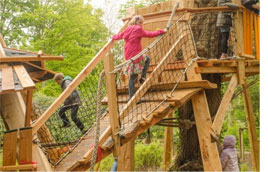 The Beetle Bug is an addition to Thorp Perrow's existing play area which has standard wooden play items that were in need of repair and maintenance.
Protek Royal was the ideal product to treat the old timber work, with superb colours to suit the natural backdrop and blend with the old oil based paints used on the family's manor house.
We used Protek Royal on some parts of the Beetle Bug to help blend our new structure with the old play equipment. On other parts of the Bug we used Protek Clear to give the timber protection from rot while retaining the natural timber colour.
As the Bug structure ages, we shall be using more Protek to keep the timber in good condition and looking at its best.' www.alastairguy.co.uk
Share this product