4th Nov 2016
We would like to thank everyone who entered this year, it is very rewarding for us to see what you have used our lovingly made wood treatments on.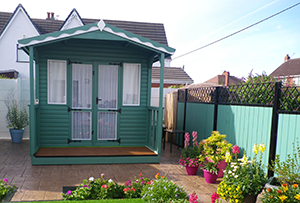 THE RUNNERS UP
So we are in turn rewarding the following contestants with 15% Runners Up Discount Vouchers….
Pat Burgess: Chosen for bright colour and complementary planting. "Summer house, painted in Royal Exterior Meadow Green and Snow. So many lovely comments from my neighbours loving the colour. My refuge."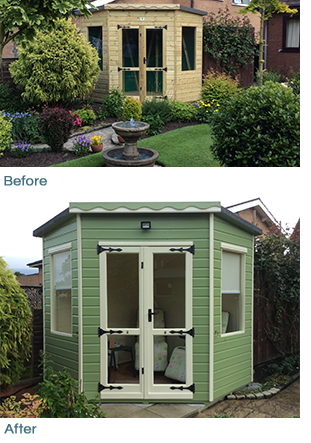 George Hugh Thistlethwaite: who transformed his garden buildings and sent us great before and after photos. His summerhouse painted with Royal Exterior: Pond Green and Cornish Cream.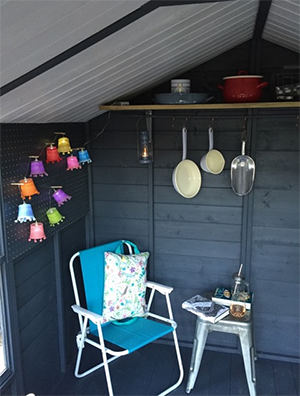 Jacqui Horton: entertained us with her entry describing how she now has a "loo with a view". Her many projects have seen her upcycle old materials and then use Protek Wood Stain "It is the painted finish that makes all of these projects rock!" she kindly told us. "I used the Slate Grey on the outside of projects with the Royal in Silver Grey, Anthracite and China Clay for the doors / windows and wood panelling inside. So far I have built an Outdoor Kitchen, Greenhouse, Treehouse, Cabin, Dove Cote and also renovated an old Shed into a composting Loo for the Cabin… I have even used the Royal inside on our doors and the downstairs loo panelling, which also features some vinyl frosting I designed with the Welsh weather in mind!"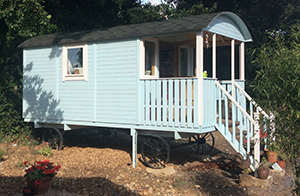 John Kemp: entered his wife's shepherds' hut studio which they painted using Protek Royal Exterior Eggshell Blue and Snow earlier this year. We want one!
IN 3rd PLACE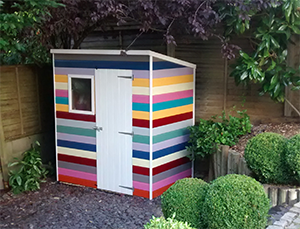 Emma Glading: we were so pleased to see our lovely sample pots put to such creative use to brighten up a dark, gloomy corner of her garden. Emma told us "I painted the back panel, door and all trims in Snow (1ltr was enough). I found that a 125ml tester pot was enough to paint 2 stripes on my tongue and groove shed, so I used 1 pot each of (from the top, down): dove grey, iris blue, French lilac, drawing room gold, lemon yellow, fuchsia pink, teal, regency puce, silver grey, meadow green and saffron."
Emma receives a 20% discount voucher to be used for a future order from Protek Wood Stain.
IN 2nd PLACE
Mark Deans with his clever use of our wood stains that demonstrate they can be used with dramatic effect inside as well as out.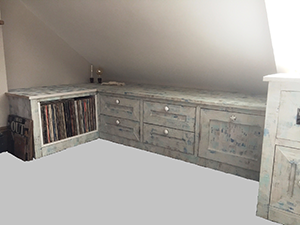 Mark told us "We needed a piece of storage for our top floor room, with a seaside feel. The room is a funny shape with an angled ceiling and since buying such a thing was impossible it had to be built.
The whole thing was constructed from a simple wooden frame finished with timber planks. To achieve the finished effect we bought regular kiln dried construction timber, distressed it using a power tool with a wire brush and then painted each plank individually to give the appearance of old seaside wood - perhaps off an old beach hut or even a wooden boat...
The colours and products we used were Royal China Clay as the base coat (x2) followed by dabs of Wood Protector Warm Grey, Cornflower and finally Royal Eggshell Blue.
It took some time (!) but was really worth the effort and the final effect is better than we could have hoped for."
Mark will receive an attractive Worthing Hanging Bird Table from the Hutton Premium bird range.
AND THE WINNER OF THE 2016 WIN WITH WOOD COMPETIION......... Peter Rebbeck
After careful consideration of all the truly high quality entries we decided to award this year's 1st Prize to Peter Rebbeck. We just loved his subtle choice of our Royal colours that have given his timber building a really stylish finish.
Peter told us about his entry "The product and colours used were Royal Exterior, Mendip Mist and Lime White.
I also tried several colours using test pots - this was very helpful in deciding which colours to use and to experience the excellent cover properties of the product. The paint was easily applied to the timber garage that hadn't been treated for a few years - after making some of our multi-legged neighbours homeless!
I decided to use 3 coats of the Lime White to get best coverage - 2 coats of Mendip Mist were sufficient.
One other major benefit of Protek products was that brushes etc. were easily cleaned in soapy water."
Peter has won a beautifully crafted Cotswold 5ft bench from Hutton Garden Products RRP £325.00 plus free tins of Royal Superior Wood Finish worth over £115.00.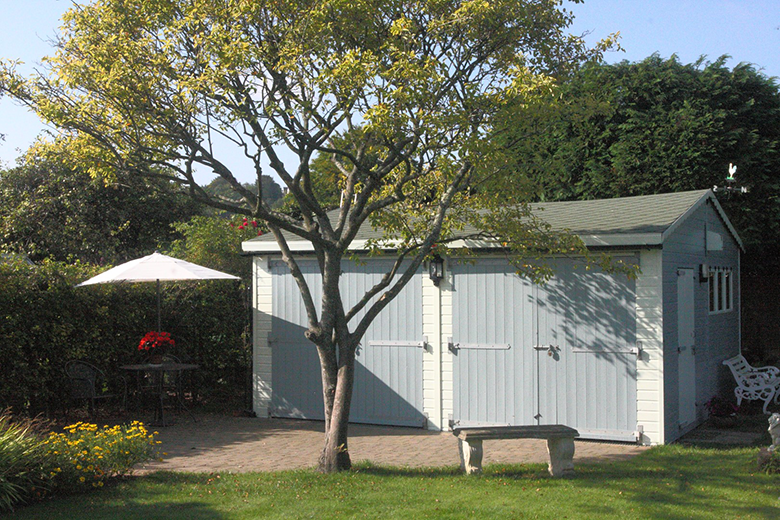 We just had to make a High Merit award to the totally glamourous Ark at Leewood Glamping.
A 100% upcycled material shed , coated in Protek Wood Stain & Protector Ebony.
The Interior was treated with Protek Woodstain & Protector Gun Metal Grey & Sky Grey Blue, with stunning effect.
We have awarded them a 20% discount voucher in the hope they will use more Protek on future glamping "sheds"!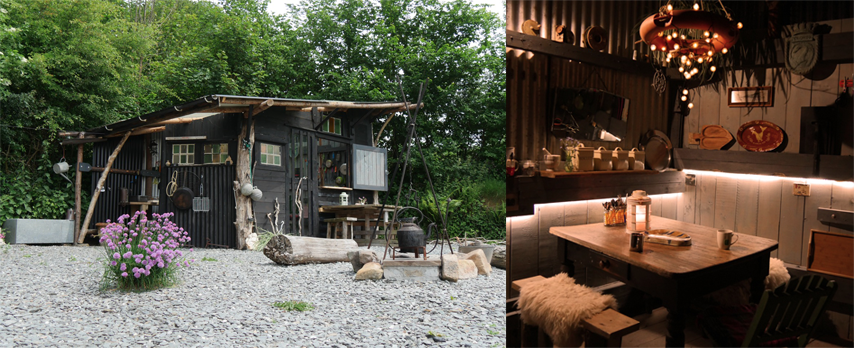 Share this product