6th Jul 2019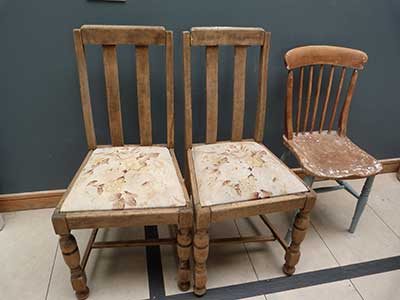 Eating outside with friends is a magical highlight of the British summer but not everyone can afford an expensive dining set to accommodate a large group of guests. A cost-effective solution is to upcycle an old table and chairs using our Royal Exterior range. Any type of wooden dining set even indoor designs or inexpensive finds can be quickly painted up. To create a fun and relaxed setting, mix and match styles using chairs of different shapes and sizes.
To get started bare wood is best, but old coatings can be painted over if they are water-based and correctly prepared. Simply clean the wood with a damp cloth, strip off any loose paint then sand down and wipe clean. Before painting, protect flooring with a waterproof dustsheet and choose a synthetic brush that will be small enough to manoeuvre. Protek Royal Exterior Superior Wood Finish also acts as a base coat so it can be applied without a primer. However, if you are painting a very pale colour you may need a primer knotting agent. Two to Three applications are recommended to build depth of colour and sheen. Ensure each coat is thoroughly dry before applying the next. You can create an upbeat scheme by mixing bright colours or classic greys and pastels.
Position the table and chairs in a shady spot under a natural tree canopy, lay the table and roll on sunny days.
Table painted in China Clay
Chairs painted (clockwise from top) Mendip Mist, Teal, Antique Rose, Passionate Plum, Lemon Yellow and French Lilac.
Share this product