27th Jun 2016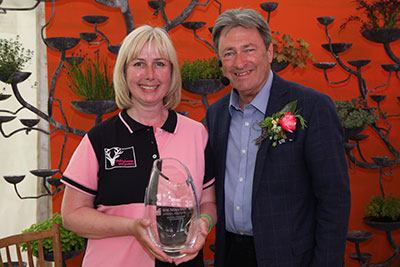 I always love a good luck story and one of our customers, Nikki Hollier has a delightful one that has seen her transform her life. Dumping the desk for the design board, Nikki has won a Silver Award and People's Choice Award for her first ever show garden at RHS Malvern 2016 and met the wonderful Alan Titchmarsh.
From IT Professional to award winning garden designer in a year
I had been working in the world of IT for the past 20 years but needed to follow my creative passion for colour, I was unsure where to start and how to change career direction. So I enrolled at Pershore College of Horticulture and studied RHS in Horticulture part time for two years, just as something to do. I had so much going on at home and in my professional life that it wasn't my main focus, and after all I wasn't going to become a horticulturist anyway, or so I thought! Within a year of completing my exams I had moved house and given up my career and started my new business of home and garden makeovers. Things had moved very quickly!
After starting my business, Styling Homes and Gardens, I realised very early on that my drawing skills needed some work – so I enrolled on a 10 week intensive garden design course, which I completed in November 2015. Three weeks later I had submitted my designs to the RHS for my first show garden at the Malvern Spring Festival. Within two months my application had been accepted!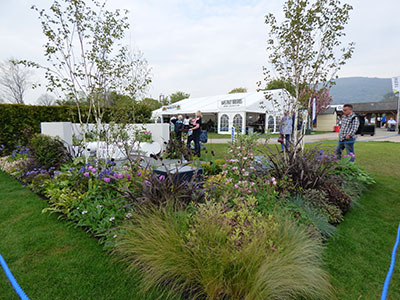 I was assigned a Plant Mentor who told me "I started out in horticulture studying and working for the Royal Botanical Gardens in Edinburgh" which was closely followed by his resume of some highbrow horticultural establishments, and finished his comments with "it took eleven years before I created my first show garden". I wasn't sure if he was implying that my very short tenure of two months at that point, was brave or stupid.
It's a festival garden, which is aimed at newbies like me, so I thought! After meeting all the other designers at a RHS conference in February 2016, I realised very quickly that I was the only one with limited horticultural experience. There was no going back now, so I ensured I had the right team in place by recruiting a garden builder who had built show gardens before. This was the best decision as he was invaluable in helping me through the myriad of rules and regulations set by the RHS.
The show garden build started at Malvern on Monday 11th April 2016 – it is a day I will never forget, not because it was a cold and miserable day, but because that was when I realised the gravitas of creating a show garden. I was amongst some of the best, most creative and brilliant horticulturists I was ever likely to meet in one place.
By this point, you would have thought everything would have been in place to complete the project within the three week deadline – I'm a very organised person and it came as a bit of a shock that I had not ordered one plant by this stage but it wasn't from lack of trying. My landscaper was even more concerned about this prospect; after all it's a plant show, not a landscaping show. The main nursery I had been working with had let me down – not just me, but various other designers too.
However, every cloud has a silver lining and I found a fabulous nursery who understood the demands of RHS and supplied beautiful plants by the promised date. Although, I still needed lots more plants – a show garden needs 30-40 plants per square metre and I had over 20 metres to fill. I visited every garden centre and nursery in the vicinity searching for suitable plants. It wasn't easy, as all the best ones were allocated to the Chelsea Flower Show, but I did it and when my garden was judged, I gained my highest mark from the RHS judges for my planting.
You may have seen James Alexander Sinclair on TV at the Chelsea Flower Show talking about how the RHS judge the gardens and the criteria they use – it is the same for all RHS gardens whether it's at Tatton Park, Hampton Court, Chelsea or Malvern. I'm very proud to say not only did I win a silver medal, but I was also given the People's Choice Award – which really was the icing on the cake, as it meant the public loved my garden, and after all they were my potential new employers.
So, it's the start of my second year of business and I'm looking forward to working on new projects to help people create a harmonious home using great colour and fabulous paint from Protek Paints. I always recommend painting garden furniture, fences and sheds as not only does it protect it and extend the lifespan, but also provides year round colour, which is great in the dreary months just after Christmas.
Share this product