3rd Oct 2011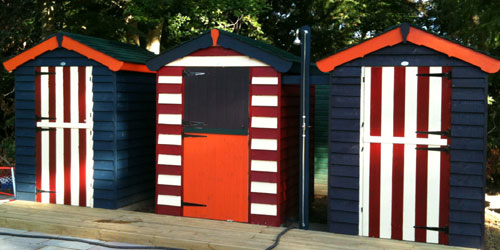 SHEDS WIN PRIZES – COMPETITION RESULTS
We had such a great response to our competition that we just had to extend the winners to include 3 of our favourites.

Rory Caffyn-Parsons of Farnham in Surrey won first prize with his pictures of his pool huts. The inspiration for colours came from his wife who selected a combination of Amaranth, Cranberry Crush, Marigold, Parsonage Cream, Peacock Blue & Spruce from the Wood Protector range. The concept was to create pool changing huts from some basic sheds with a fun and vibrant beach hut theme. Although there were doubts as to whether the colour scheme would work, when painting was completed Rory's wife was proved right and they look fantastic!
Runners up prizes of 20% discount vouchers for our website were awarded to Andy Roberts of Deal in Kent and Alleyne Barlow from Plymouth in Devon.

The next competition will open on January 1st 2012 and run until mid-march 2012 although projects can have taken place prior to the opening date. Look out for prize info in the next newsletter or on the website homepage.
SHEDS WIN PRIZES – 1ST RUNNER UP
Andy Roberts of Deal in Kent

Andy's 'shed' was truly stunning and if the prize was for architectural design alone then he would have won. A very impressive building constructed by Ali Guy from Cornwall using Douglas Fir, also sourced from Cornwall. Soft Sage Wood Protector and Tough Coat were used.

SHEDS WIN PRIZES – 2ndRUNNER UP
Alleyne Barlow from Plymouth in Devon

Alleyne Barlow created a beautiful and relaxing Japanese style garden centred around a pond housing Koi carp. Poppy and Ebony Wood Protector were used to create a dramatic and authentic look.
Share this product