28th Dec 2010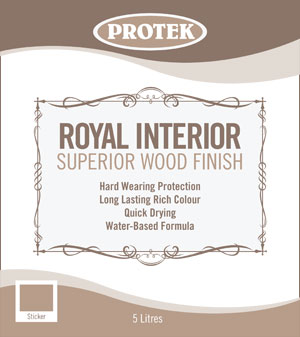 Coming soon to the website is the Royal Interior and Exterior range, currently only available to our trade customers.

This has recently been re-formulated as a more environmentally friendly product that provides a superior finish and long-lasting rich colour. It is easy to apply and leaves a water-resistant protective coating.

As a superior product it is ideal for those highly specified architectural jobs and has been designed for high-end wooden products such as summer houses, sheds, exterior doors, garden furniture and animal housing. Inside it is perfect for use on dolls houses, toy boxes, interior doors and window frames, skirting boards, furniture and joinery.

Protek Royal Interior and Exterior is available in the full spectrum of colours from the Wood Protector range. Colours have been designed to match the Wood Protector colours but with a different formulation there will be a slight variance between the two ranges.

The Royal Interior & Exterior range will be available to order through the website in early 2011.



Share this product