26th Aug 2015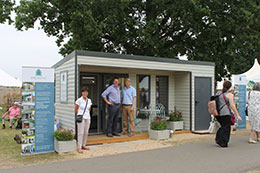 We were lucky enough to be able to escape the office and head down the motorway to visit the RHS Hampton Court Palace Flower Show. With the usual London traffic and road works blocking the way and causing a huge queue on the turn-off from the motorway, we nipped past to Teddington, abandoned the car and finally made our way by train and bus to Hampton Court.
The Flower Show was as beautifully impressive as ever and the weather spoilt us with a hot sun and blue skies. First visit was to a new friend we'd made at the Bishop's Palace Garden Festival, Paul Jupp from Meadow in My Garden to pick his brains about us possible exhibiting there in 2016.
Next we bumped into our lovely friends from Browns Garden Buildings who were having a splendid time at the show. Our route then took us past more of the beautiful show gardens (my favourite being the Vestra Wealth Garden) to visit David Domoney at his pavilion where we caught a bit of Charlie Dimmock's talk before having to head back through the show to make our escape from London before it became gridlocked and trapped us in.
So watch this space, you may well see Protek there next year!
Share this product