22nd Nov 2012
The 2013 'Ideal Young Gardeners of the Year' competition launched on Friday 15th November 2012, ahead of the Ideal Home Show's return to London's Earls Court next March for its 105th year.
The annual competition, held in association with the Prince's Foundation for Building Community, celebrates young 'green' talent and sees six UK horticultural colleges go head-to-head to create a show-stopping sustainable garden to be visited by hundreds of thousands of visitors at the Ideal Home Show London. HRH, The Prince of Wales has also visited the gardens and their young designers for the past two years.
Protek are proud to be on the list of suppliers who offer their products and technical advice for free in support of this competition, showcasing new design talent from across the country.
This year's show gardens will be judged by a panel, led by TV gardener Alan Titchmarsh. The colleges will be awarded gold, silver gilt, silver or bronze medals with two further prestigious titles also being awarded for Best At Show & The People's Choice.
The 2013 participating colleges are:
Chichester College - Sussex, (2012 Champions)
Capel Manor - Middlesex, (2011 Champions)
Askham Byran College - North Yorkshire
Bridgewater College - Somerset
Shuttleworth College - Bedfordshire
Writtle College - Essex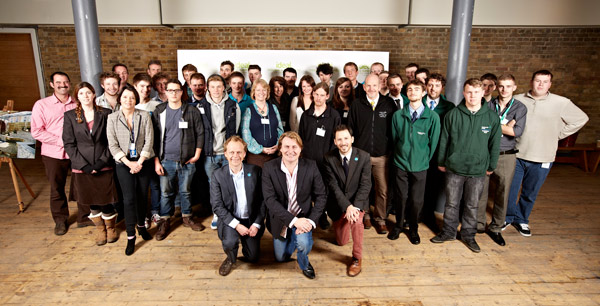 This annual competition offers students a great opportunity to showcase their work and celebrate the best of sustainable British gardening. Each college will be given a 5.5m x 4m plot to both plan and design a unique garden based on the theme of 'sustainable urban gardens.'
The Prince's Foundation sets clear competition guidelines based on organic and sustainable principles that the charity's President, HRH, The Prince of Wales, has championed for so long.
A spokesperson for the Prince's Foundation said: "We believe that green spaces should be at the heart of every community, including in more confined urban areas. These spaces are extremely important and valuable to communities as they promote active living, boost health and vitality and provide people with edible produce and great spaces to gather. We hope that this competition will not only encourage people to make better use of outdoor space, but inspire the next generation of young urban gardeners."
"We are delighted that so many young people are participating once again this year and look forward to seeing all the entries."
David Domoney, organiser of the competition says: "During this competition, I have the privileged position of student mentor. I get to experience and support every stage of the competition with the students, from planning stages to the grand reveal, so I know just how much hard work and passion goes in to each and every one of the show gardens.
It's an absolute joy to see the college's creative plans flourish each year and to witness the team's sense of achievement and pride at the finished result. What a fantastic career platform this competition is to build upon for these budding young designers."
Each college will be asked to submit their garden designs before the 15th January 2013, they will then have 1 week to build and plant their garden inside Earls Court ahead of the Ideal Home Show opening day on the 15th March 2013.
Each garden will then be judged at the show on the 15th March, by the esteemed panel of experts which include Titchmarsh and award-winning garden designer Adam Hunt, creator of the edible garden, showcased at the 2010 START festival, held at Clarence House, as well as Prince's Foundation Campaigns Programme Manager Michael Romero.
The Ideal Home Show London will open its doors for 18 days from 15th March – 1st April 2013 at London's Earls Court. Tickets can be booked online via www.idealhomeshow.co.uk
For more details on the 2013 'Ideal Young Gardeners Competition' and the participating colleges visit www.idealhomeshow.co.uk
Share this product