25th Jun 2012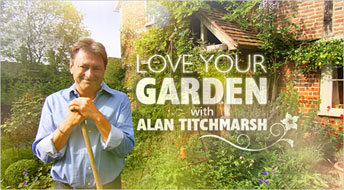 The new series of "Love Your Garden" presented by Alan Titchmarsh began on Tuesday 26th June 2012 at 8.00pm.
This popular primetime ITV 1 and ITV HD series is loved by gardeners from keen amateurs to professional landscape gardeners, offering advice and entertainment from the demi-god of gardening, Alan Titchmarsh and his team of advisers. As fans of the show we supplied them with some of our wood stains and advised them on a feature that they filmed showing viewers how and why to choose wood stains.
In Episode 1 David Domoney used Royal Exterior Black on the decking and planters in Chandler's Ford where they designed a tranquil Japanese style garden for the inspirational owner, Louise.
Episode 3 featured the Lichfield summerhouse made by UK Garden Buildings and painted externally with Royal Soft Sage & Pale Sage with a Parsonage Cream Interior. On the 17th July they will be featured again after supplying the team with a Potting Shed and the Radbourne Garden Room. Later in the series Alan and his team will be using a variety of our grey shades from the Royal Exterior range to transform a garden in Norfolk belonging to a complete hero.
Watch out for us and check out their website for more tips and advice
http://www.itv.com/alantitchmarsh/
See accompanying document "A Brief History of Stains" for information provided to production company on why and how to choose wood stains.
If you're interested in any of the other products used in the show, here's a list of the other suppliers from Love Your Garden Episode 1
Share this product