26th Mar 2020

Over the last year we have been updating our packaging and in the coming weeks and months you will start to see the results.
We worked with a highly experienced and award-winning designer Tracey O'Doherty, who has worked on many well known brands including Marks and Spencer, Selfridges and Harvey Nichols. She has radically changed the packaging.
The new packaging reflects the importance of wood to Protek. Using wood images to distinguish between the designs, the individual products now have a fresh new identity that is clean and clear.
The range has been clearly differentiated by colour banding.
Preparation products such as wood preservers and primers are in Red. Wood Preserver Plus uses a sawn tree stump as its image highlighting the beauty of wood and the need to protect it.
Core products are in Grey, this includes Wood Stain and Protect and Shed and Fence.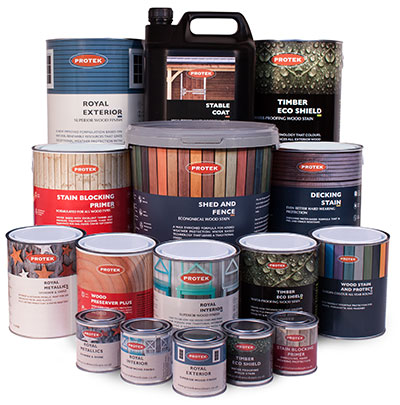 Wood Stain and Protect is a great all-round garden product and uses fence slats to showcase the bright and varied colour palette. With over 35 colours to choose from it is now available in three sizes 1L, 2.5L and 5L.
Shed and Fence a great value product also uses fence slats to showcase the more traditional colours available in the range.
Our premium products Royal Exterior and Royal Interior are set on a Putty coloured base that really highlights the sophistication of the product.
Royal Exterior uses Hadspen blue cladding with white windows for a sophisticated look.
Royal Interior uses a lovely chair image to showcase the colour range
Royal Metallic adds some 'sparkle' to the tin.
New Timber Eco Shield is dramatic in Black, the image of raindrops on a vivid green leaf show the water repellency of the product and it's eco credentials.
Icons
Alongside the new designs are icons. The icons were designed to make it easy to see the different product features and benefits. Every feature has an icon- e.g. whether it is sprayable, uses nanotechnology, is child, pet and plant friendly or the coverage per SQ M. Simple designs to make it easier for the customer.
Packaging
With the attention on plastic and plastic pollution we have made the decision to move our products into tins. As tins can be more easily recycled it felt like the right choice to make for the environment.
The only exception to the tin policy will be Shed & Fence which will be moved to a plastic container that contains 100% recycled plastic and is in turn fully recyclable.
Over the coming months as we phase in the new designs you may see a mix of old and new packaging. Bear with us …..it is the same great product.
Share this product