26th Apr 2019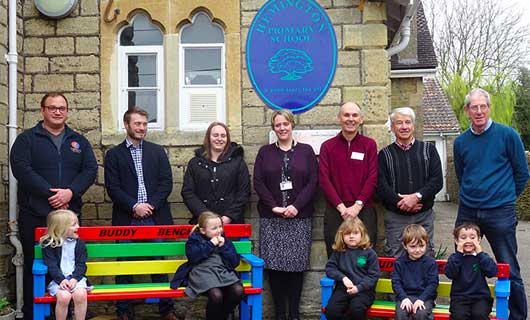 We are delighted to have supported Midsomer Norton 'Men's Shed' with brightly coloured paints for the hand painted 'Buddy Bench' for the playground at Hemington Primary School.
The multi- coloured 'Buddy Bench' is part of a scheme to avoid school children suffering loneliness and bullying. Any child feeling vulnerable simply sits on the bench and other children are invited to engage and befriend him or her. This not only helps the vulnerable child but also teaches the other pupils social responsibility.
Hemington School Headteacher, Naomi de Chastelain, said "We are delighted to be the first school in the area to benefit from this collaboration between Men's Shed Midsomer Norton and local suppliers Charltons Timber Store and Protek Woodstain. We hope that other schools in the area will adopt this scheme".
To shop for "Buddy Bench" colours used Wood Stain and protect Primrose, Fire engine Red, Grass Green and Bristol Blue, with Clear Tough Coat on top.
Share this product