13th Jan 2015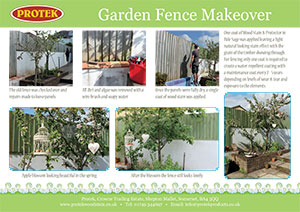 Last Easter bank holiday I dragged my husband out in to the garden at 8am as I'd had a vision that needed to be fulfilled.
In a large raised bed are two mature apple trees that produce the most glorious blossom every spring. Behind them sat an old weathered fence that just wasn't doing anything to add to the picture.
I knew that if I (and aforementioned hubbie) painted the fence in Pale Sage from the Wood Stain & Protector range it would create the perfect backdrop to the spring bloom – and it did!
Share this product