31st Jul 2013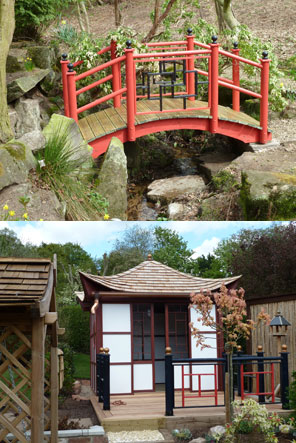 Protek are proud to be a sponsor of the Japanese Garden Society show garden at this year's Taunton Flower Show held on the 2nd and 3rd of August 2013.
David Burgess, owner of Jade Pavilions has been a member of the Japanese Garden Society since 1998. For the last 10 years he has sat on the National Committee and been a trustee since they became a charity in 2012.
He has been a customer of ours for many years using our wood stains to colour and protect the stunning tea houses, bridges and other structures that he creates, so when he asked us to be a sponsor for this year's Taunton Flower Show, we were more than happy to offer our support.
Jade Pavilions has supplied buildings that have won gold medals at Chelsea, Hampton Court, Holker Hall and Taunton with silver medals at Tatton Park and Ayr shows, all painted with Protek Royal. Last year the Japanese Garden Society was awarded a bronze medal at Taunton Flower Show, which is very impressive considering it was the first design garden they had created for this event. They are looking to build on this success and we look forward to seeing what promises to be a beautiful garden and a great show.
For more information on the Taunton Flower Show you can visit their website at www.tauntonfs.co.uk/
You can find out more about Jade Pavilions at www.jade-pavilions.com
Share this product