2nd Jun 2015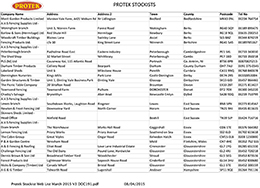 We are very happy to announce that more stores are now stocking Protek wood stains. Main Line Timber in Daventry, Northants took delivery of a variety of colours from our Decking Stain, Shed & Fence, Stable Coat and Wood Stain & Protector ranges.
Charltons Timber Store based in Frome, Somerset pride themselves in sourcing products and resources as locally as possible. They have added Wood Preserver and a large selection of colours from our Royal Exterior range to their extensive stock.
P&A Garden Centre are selling a selection of Shed & Fence, Decking Stain and Wood Preserver from their shop in Mold, Flintshire – we have it on good authority that their Woodworks Café is a great place to visit with very tasty food.
Farm Fencing in Tadworth, Surrey also join us with a selection of Wood Stain & Protector and Shed & Fence plus Stable Coat in their main shop and Equestrian Centre nearby in Epsom Downs.
The National Trust's first garden centre, Morden Hall Garden Centre in Surrey, has opened with a range of Wood Stain & Protector colours in its store. Another great excuse for me to visit a garden centre!
And after discovering our Royal Exterior wood finish range on the last series of "Love Your Garden" we are very happy to say that Dunster House are using and supplying a core selection of Royal colours with their gorgeous timber buidlings.
Share this product