3rd Jun 2015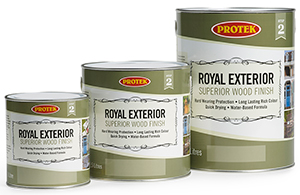 Protek's Royal Superior Wood Finish range was a long-standing industry favourite and since it was launched to the retail market in 2011 it has grown in popularity and is now a firm favourite of manufacturers, professionals, stockists and domestic users.
The wood stain is a joinery grade product that can be used on exterior or interior wood. It is hard-wearing, long-lasting, suitable for vertical and horizontal planes, rough-sawn or planed timber, softwood and hardwood. Royal is an easy to use wood paint/wood stain hybrid that produces an instant opaque satin covering. Not being as dense as a paint it still allows the grain and nature of the wood to show through the coating. Such a wonderfully versatile, rich looking wood stain has been adopted as the product of choice for many leading manufacturers of garden furniture and timber buildings from sheds to chalets.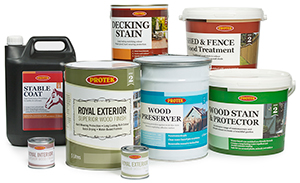 Originally the design of the Royal tin label was an understated artistic concept reflecting the ease and grace of the product. The new design takes it forwards with imagery and a colour palette that stands out on the shelf. The new wrap- around printed label also incorporates easy to read instructions plus related imagery that make the selection process simpler for store customers.
The National Trust Garden Centre in Morden Hall also became the first stockist to receive the new designs of 1 litre Wood Stain & Protector tubs to match the 5 litre design that was launched last year
Share this product