30th Dec 2013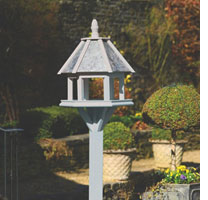 Garden birds always need some help over winter and this year seems set to be a particularly bitter and harsh one. Feeding birds with leftover fruit cakes, bacon rind or store bought feed can help keep your feathered friends happy and healthy through the winter months.
As well as helping wildlife you can also add an important and attractive feature to your garden design by treating yourself to a quality wooden bird table. Rosindales are makers of quality bespoke bird tables and garden furniture. Their bird tables are available in 3 stunning designs that can come pre-painted in a choice of 5 bespoke Protek Royal colours that ensure not only a beautiful finish, but a protective water-proof coating that will help the timber last for many years.
Another one of our customers that make a range of timber products for wildlife and the garden has just introduced a gorgeous bird table coated in Protek Royal Cornish Cream. We have one in our garden and I'm happy to say that we all love it, including the birds!
If you've already got a bird table and wanted to coat it in a coloured protective coating, this would be the perfect project to take advantage of our winter promotion giving a 15% discount on all 1 litre tins from our Royal Interior and Exterior ranges for the whole of January and February 2014.
To look at the bird tables and other products available from Rosindales and Country Rustics you can visit their websites at:
http://www.rosindales.co.uk
http://countryrustics.co.uk
Share this product