30th Dec 2013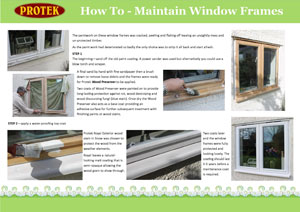 Painting window frames is one of those jobs that most of us groan at the prospect of having to do. Luckily I have a husband who was (relatively) happy to take on the task!
By using Royal Exterior wood finish we should cut down on the drudgery of repeat maintenance as it won't crack and peel like paint. Being a woodstain it soaks in to the timber nourishing and protecting it whilst leaving an attractive matt coloured coating with a soft sheen. Over the years it will just fade with the colour and protective coating lessening. For maintenance all we'll need to do is clean the surfaces and apply a single maintenance coat to restore the colour and water-resistant coating.
Far easier than having to get a blow torch and scraper out or sand for endless hours. Being water-based means that it's really easy to clean up after using Royal by simply washing brushes in water. The very low levels of VOC and odour make it a pleasure to use too.
Share this product