22nd Jul 2014
The RHS Hampton Court Palace Flower Show truly is one of the greatest gardening events of the year. A much larger site than Chelsea gives a sense of space and allows a wonderful display of creative and diverse show gardens, plus all manner of garden products.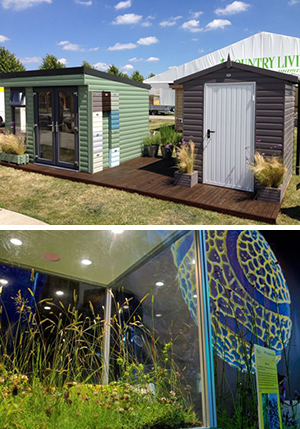 At this years event Protek's woodstains featured at two sites. Expo Floors are specialists in exhibition flooring appearing at numerous major events. They were responsible for the flooring at the RHS Invisible Garden using Protek Decking Stain in Nut Brown to give a natural-looking dark finish that complemented the atmosphere created in this exhibit.
Proudly displayed in the Escape Zone was Browns Garden Buildings making their debut with a range of buildings treated with Protek Royal Exterior Superior Wood Finish. After 4 generations specialising in the construction of concrete garages, this new venture takes all of the best design and construction principles and applies them to the making of quality timber buildings. Chris Brown, MD and co-founder is delighted with Royal Exterior. The colours and finish are not only a major attraction for the company but generates a lot of admiring interest from the public and potential customers perusing the shows.
Share this product