29th Sep 2019

The warm and bright Summer months may be a distant memory as the nights draw in and the weather turns wet and windy, but there are still many things you can do in the garden. It is an ideal time to tidy and weather proof your garden, put in some effort now and your garden will look good over the winter months, but you can also still grow new crops.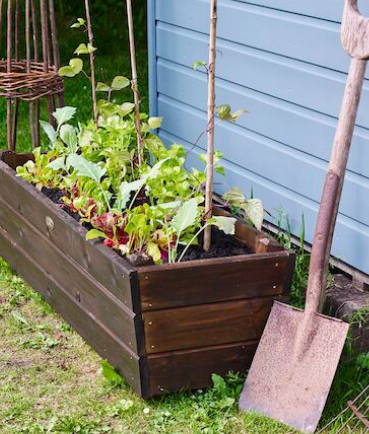 As you savour your last few tomatoes or herbs, you may think the time for planting crops has gone, but it is still possible to grow vegetables over the winter months if you choose the right ones and give them a little protection. The slow growth of the plants can give an extra depth of flavour, so you may find some taste even better than those grown in the warmer months. There are the usual root vegetables you can grow over winter, some of which are fully hardy, so can cope with the cold and wet, but these may need more space than you have. If you only have a small area such as a patio, balcony or windowsill there are other crops you can grow such as winter salads, spring onions or leaf vegetables that can be cooked quickly.
There are a wide variety of containers you can choose to plant up, they may be ones you already have; either wood, ceramic or metal, but make sure they are clean and in good condition before you start. We used Timber Eco Shield Dark Brown on our wooden trough, but you could use a brighter shade from one of the 64 available in our Royal Range to add all year round colour to your garden. It is probably a little late to sow your own crops, as it should really have been done early to mid-September, but some garden centres are still selling plug plants which can give a head start. You can use new compost in your pots, or recycled, but in this case make sure it is pest free and add some slow release plant food or chicken manure pellets. The crops will be less hungry as they grow more slowly in Winter and therefore need less feed through the cold period. You can begin feeding again when the weather warms up in Spring. Place the container in a sheltered spot out of the wind, and if possible give them some cover; a cloche or fleece, as this should give you a more productive crop. You can buy these, but we've used recycled water bottles, (the large 5L ones are great as they give the plant more room to grow) or other recycled materials such as plastic piping and clear plastic packaging.
The final thing is what to grow! Some of our suggestions for planting are; for salad crops 'cut and come again' salad mixes, rocket (less prone to bolting in the cooler months), Mizuna, Chicory or Winter Gem lettuce. Other leafy crops include Cavelo Nero, Spinach or Swiss Chard (this will give the added bonus of a splash of colour to your garden as well!).
Share this product