7th Nov 2011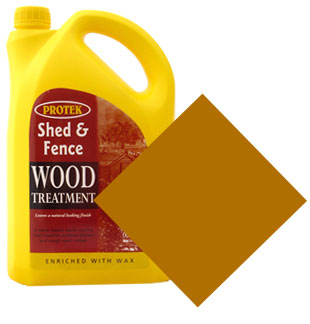 Golden Brown Shed & Fence paint has been a firm favourite for our trade customers for years and it is now available in our retail range. It is the most popular colour for treating stables and all of our stable manufacturers use it, although they use the Stable Coat formulation specifically designed for stables and animal housing. Stable Coat will also be available on the website soon.

As the name suggests it is a beautiful golden brown that looks warm and rich painted on timber. This traditional and versatile shade suits all types of exterior timber from fences and sheds to trellises and planters.

Shed & Fence Wood Treatment is a waterproof wood stain that is long lasting and enhances the natural beauty of wood. Protek Shed & Fence paint is a cost effective wood stain that can be applied to planed (finished) as well as rough sawn timber, offering great coverage of up to 12m2per litre. This wood stain contains wax additives for the extra protection of a water resistant coating.
Protek Shed & Fence is a natural looking water-based wood stain with very low VOCs (volatile organic compounds).
Share this product