14th Oct 2014
This summer I decided to make the most of the good weather and the fact that I work at a woodstain factory.
The boundary fencing was of good quality but well-weathered and looking drab & dirty. Under a mature tree there was a large amount of algae build-up and the time had come to treat the timber to prolong its life.
Experimenting with an oriental/mock-Tudor style, I got busy with the brushes and created a design that looks great and makes a brilliant backdrop for planting.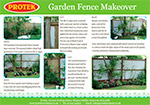 Share this product