5th Apr 2014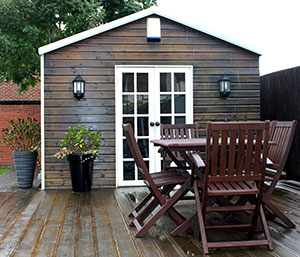 As we all know decking has become a popular feature in modern garden design and although it can look very attractive, the extreme pressures that it is under from foot traffic and the environment can lead to quite a 'high-maintenance relationship'.

Being horizontal it is subjected to the highest levels of UV exposure, lashings from rain and the torment of sitting water and frost, not to mention boots and feet of all shapes and sizes constantly wearing at the surface.

The majority of decking boards will come pre-treated with a preservative but the quality and life-span of the preserver will vary greatly depending on the manufacturer. There will be no protection against the elements so to protect and increase the life-span of your decking it is essential to coat with a good water-proof Decking Stain.

Protek have recently made improvements to Decking Stain re-formulating using a new high quality resin that provides better adhesion to the timber substrate and a stronger bonding coating making it tougher and less prone to cracking and peeling. It can be applied at lower temperatures and withstands weathering and freezing cycles at a far higher level than previously.

This new generation resin has been created from core shell technology with acrylic modification on the alkyd. It is linseed oil based meaning that not only does it have good eco-credentials being a renewable resource, but its low particle size offers great wood penetration.

The new generation of alkyd dispersion also offers extended durability and when coupled with the increased resin levels in the new formulation, Protek's Decking Stain is even harder wearing and has a greater level of water repellency. Protek's new Decking Stain not only helps to enrich the decking and uphold the structural integrity of the timber, but reduces the moisture content of the decking making it less prone to frost damage. In tests the moisture content was 30% lower with Protek's new formulation than other decking stains.

Protek's Decking Stain is an enriching water-based woodstain suitable for use on softwood and hardwood. It is easy to apply by HVLP (high volume low pressure) garden sprayers, brush or roller and can be easily cleaned up with water and a bit of detergent. Low in VOC and odour it is a pleasure to work with and has good eco-credentials.

As with all of Protek's woodstains in its woodcare range it conforms to EN71-3 and is deemed suitable for use around animals, children and plants.

TREATMENT ADVICE
When treating decking it is essential to make sure that you prep properly. First and foremost the timber has to be dry all the way through. Quite often it's hard to tell as the surface can look bone dry but with decking moisture is easily trapped underneath the deck meaning that your boards can actually still be riddled with moisture in the middle or bottom. If you can't accurately ascertain how dry your timber is you can use a protometer to see if moisture levels are below 20% or wait for a good long spell of dry weather.

With new decking unless it is well weathered there will most likely be remnants of the manufacturing preservative on the surface of the timber (salt residues or waxes) that can block new coatings from fully adhering to the timber. You should either allow the decking to weather for a few months or to speed up the process you can wash the surfaces with water, detergent and a stiff brush then allow to dry fully.

In a good spell of dry weather apply 2 coats of Protek Decking Stain allowing each coat to fully dry before applying the next. On a hot dry day this can be a couple of hours. Decking Stain can be applied by a pump-up garden sprayer, brush or roller, applying evenly along the grain. Allow at least 24 hours before subjecting the deck to foot traffic.

If you're struggling to find a sustained block of dry weather then break the job down in to two parts. As long as the timber is dry, temperature is above 8oc and no rain is forecast for 24 hours, apply one coat and leave to dry for 24 hours or 48 hours if the weather is mild and damp as the drying and fixing process can be greatly lengthened by cold humid conditions. Wait for another spell of suitable weather and apply the 2nd coat. This method will ensure that your timber has some protection against the elements and will mean that your efforts and money aren't wasted when enough time isn't allowed for the stain to dry and a big deluge of rain just washes it away.

You can apply a top coat of an algae inhibitor to stop the growth and build-up of algae but these can be quite harsh chemicals so you may choose not to and just clean off algae as and when required.

MAINTENANCE ADVICE
To keep your deck and coating in good order it is suggested that every autumn you wash down the deck with water, detergent and a stiff brush to remove dirt and algae. Do not use a pressure hose as this could take the woodstain coating off as well.

Depending on levels of exposure and wear & tear you will need to apply a maintenance coat every 1-3 years. If the coating has worn and needs a refresh then clean as above, leave to dry fully and apply a single maintenance coat. In cases where the coating has seen better days you should strip back to bare wood by using a sander and brush off all loose particles. Alternatively you can use a pressure hose to blast off the coating, lightly sand loose flakes of timber and brush off any debris.

Apply as above then sit back and enjoy your garden!


Share this product