18th Sep 2019

Over the last year we have been investing in our commitment to the wood stain and paint market with an exciting and modern packaging redesign across the whole range.
There was a desire to develop an easily recognisable signature look across all products that demonstrated Protek's core values of environmentally friendly wood treatments. The brief was to create a packaging design that was stylish but simple and strong enough to stand out as a premium brand on the shelves.
With the attention on plastic and plastic pollution Protek have made the decision to move their products into tins. As tins can be more easily recycled it felt like the right choice to make for the environment.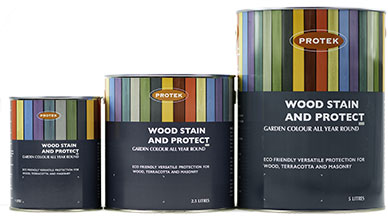 Wood Stain and Protect is the first to be phased in and has a stylish new tin can. We are working through a changeover period so a mix of different cans and tins will be despatched over this time. We will have to raise the price next year (as the tins are more expensive) but we are holding the price the same for the transition period.
The only exception to the tin policy will be Shed & Fence which will be moved to a plastic container that contains 100% recycled plastic and is in turn fully recyclable.
Working with a highly experienced and award-winning designer – Tracey O'Doherty, the packaging has radically changed. Her first job was to update the logo, which has been tweaked in shape and colour. Now in a more modern colour pallet of white, black and orange it has brought it bang up to date.
The Packaging Design
The new packaging reflects the importance of wood to Protek. Using wood images to distinguish between the designs, the individual products now have a fresh new identity that is clean and clear.
Icons
Alongside the new designs are icons. The icons were designed to make it easy to see the different product features and benefits. Every feature has an icon- e.g. whether it is sprayable, uses nanotechnology, is child, pet and plant friendly or the coverage per M2 Simple designs to make it easier for the customer.
As a small British manufacturing company we are confident these exciting changes will see our company grow over the coming years.
Share this product