27th Jun 2016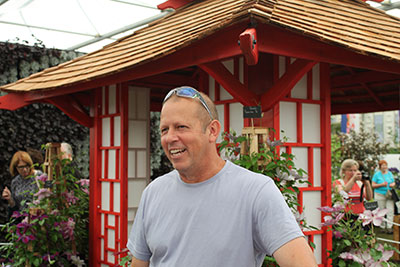 A trip to Chelsea Flower Show is always one full of excitement and anticipation to discover what is at the cutting edge of garden and landscape design. Well-established famous names and up-and-coming designers all compete to showcase their talents, scouring the globe for new and unusual plants and materials to use that will get the horticultural world talking.
This year first time Chelsea exhibitor Marcel Floyd, attracted a huge amount of attention with his Silver Gilt winning display in the Great Pavilion. Having fallen under the spell of the Clematis visiting Chelsea Flower Show in 1984, Marcel has been specialising in the development and cultivation of Clematis and other climbers at his nursery in Wiltshire since 1992.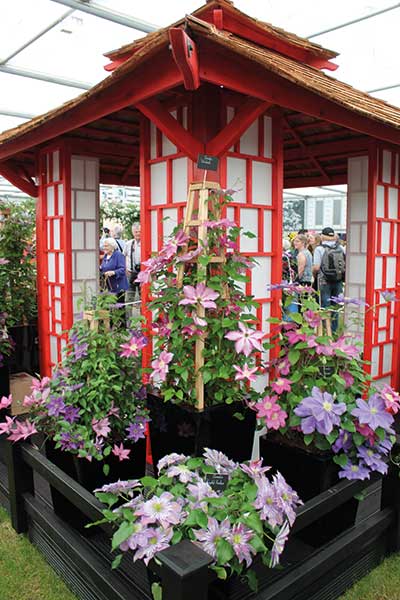 The concept for his display stems from the east where the Clematis made its journey in the 1800s from China, through Japan and into the west becoming a fragrant and flamboyant favourite in many gardens. With the help of a friend Marcel constructed the Japanese Tea House by hand using Protek's Wood Stain & Protector in Poppy on the roof and wall frames, plus Protek's Royal Exterior Black on the decking balustrade and flooring. A collection of striking and beautiful Clematis were displayed wonderfully, attracting the attention of thousands of show visitors and the gardening elite. The BBC show coverage featured Marcel's story and the construction of his Japanese Tea House, with James Wong filming a follow-up item on the Thursday when Caroline Thornborough of Protek was visiting.
Caroline from Protek says "I was immensely proud of Marcel to get such recognition on his first time at Chelsea Flower Show and it was an honour to play a part in his display. I'm looking forward to seeing his future show creations and being involved in those too."
Share this product