30th Dec 2013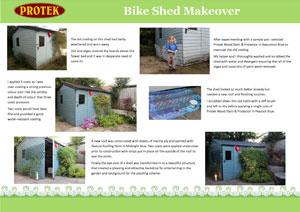 Last year we started on our bike shed and refreshed it with Wood Stain & Protector Beaumont Blue. Although we'd been naughty and didn't remove the previous coating, amazingly a year later the coating still looks great. As we were overcoating an old blue shade I applied 3 coats but 2 would have been fine.
The bottom of the shed with a flower bed below is prone to algae growth. As algae inhibitors are pretty nasty chemicals Protek don't include them in their woodstains. You can apply a top coat of an algae inhibitor in affected areas but I chose not to.
This year saw the final stages of the bike shed transformation with a new roof being put on in place of the old corrugated roof. Marine ply was used to create a new roof with strips covering the joints. Two coats of Textured Roofing Paint in Midnight Blue was painted on the ply boards prior to construction as rain was forecast so painting took place under cover in the garage.
With the new roof looking stunning I painted a trellis in Wood Stain & Protector Peacock Blue to add a final contrast to the Beaumont Blue of the shed walls and Midnight Blue on the roof.
Share this product