3rd Oct 2011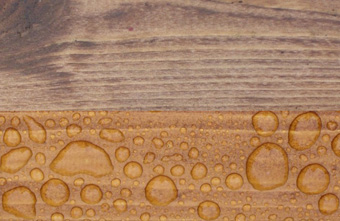 After a long, hard summer battling with sun, humidity and downpours (even hail on occasions!) garden wood requires attention in the autumn, in preparation for the long winter months ahead.

The number one enemy for wood is water, which can cause swelling and damage to buildings and furniture, reducing their lifespan. Mould can take hold of wood quickly and frost will attack any exposed areas.

Protection by waterproofing is the key, perhaps adding a splash of colour at the same time to combat the dark winter months. Protek's waterproof coatings which allow the timber to breathe and contain fungal inhibitors to protect from mould and decay are ideal.

Hard working garden wood deserves a real treat …

Preparation is essential – clean and dry surfaces are important for adhesion, allowing protective products to make better contact with the timber. The general rule for most garden wood is to clean it thoroughly with warm soapy water and a stiff brush, then rinse and let the surfaces dry completely.

Sheds and garden furniture can be nourished with 'Wood Stain & Protect'– an easy to apply, low odour, breathable, mould resistant, multipurpose wood stain and protector that weatherproofs all outdoor timber, available in 32 colours to suit every type of garden style. RRP £32.99 for 5 litres.

Timber can look as good as new with 'Protek Royal Exterior – Superior Wood Finish' – long-lasting, breathable protection with a soft lustre that allows the wood grain to show through, a water-based environmentally friendly product that is low in odour and with low VOC (Volatile Organic Compounds) available in a wide range of 64 colours. RRP £17.99 for 1 litre.

Share this product