Black Wood Stain
Black Wood Stain (Ebony), make a real statement
Protek Wood Protector
We supply wood stains, decking stains and protector coatings in a bright and long lasting range of colours to protect all of your garden wood. No matter what your taste.
We are a family run business established in 1985 that manufactures timber treatments and technical timber coatings for the timber industry, and now direct to you the home user. We are committed to creating colourful wood stain ranges that are environmentally responsible.
Read more...
We now have a Twitter account so you can follow us for all of the latest news and offers @ProtekWoodStain
New Way to Order Sample Pots
Our web designers have been busy improving the website to make the shopping process a lot easier. One of the brilliant improvements they've made is to create a new page dedicated to looking for and ordering samples.
The page can be easily accessed by clicking on the Sample Pots green button on the left hand side in the Shop by Category list, or by clicking on the ad on the right hand side of the home page. Our entire retail range is shown here with colour swatches of each shade available. Buttons next to the pot swatches enable you to quickly find out more information on the product or add the item to your shopping basket.
Now you just need to try not to get carried away and end up with a sample of every colour being delivered to your door.
Vist out new sample pots page >
Thorp Perrow Beetle Bug
Guy Associates were commissioned by Thorp Perrow Arboretum to upgrade the existing play area in their Play Glade, and came up with another amazing creation. Alastair Guy explains: 'Using locally grown, fresh sawn timber we designed an adventure play structure for 4 to 12 year olds, in the form of a 'Beetle Bug'. Using whole larch trees as legs and a larch grid-shell construction for the body, the Beetle Bug grew into a giant climbing frame 5mts. high.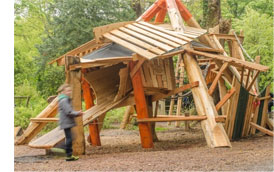 A platform, some 3mt. high built around an ancient Ash tree forms the head, and the neck is a rope bridge which connects the head to the tail, through the body. The tail is a polished wooden slide.
The Beetle Bug is an addition to Thorp Perrow's existing play area which has standard wooden play items that were in need of repair and maintenance.
A New Look for Wood Stain
We are very happy to announce that the new packs for our Wood Stain & Protector and Shed & Fence ranges have arrived from the manufacturers and some are already whizzing out of the factory door.
Find out more about our new packs>

Christmas Office Closure Dates
It's rather early to be thinking about this but some of you may be planning projects for the Christmas break or making special presents. This year we will be closing the office for Christmas on Friday 20th December 2013 and returning on Thursday 2nd January 2014.
Any orders received after 12pm Thursday 19th December will be processed and delivered when we return in the New Year.
Step to it with Protek
In advance of the publication of the new 'Steps' application advice we are updating all packaging to incorporate this new concept.

Updated designs will soon be available for Royal Exterior & Interior, Stable Coat and Wood Preserver with Decking Stain being given a complete facelift.
December - This Month's Colours
The main event in our household this month is Christmas with two very excited children counting down the days to when Santa's reindeer alight on the lawn to eat the hay, while Santa pops down the chimney and the kitten pulls over the Christmas tree.
Along with a festive feast adorning the kitchen table will be the traditional Christmas pudding taking centre dessert stage with a fresh holly sprig decorating the top. Royal Interior colours re-create the look of this fruity pud.

TOP OF THE POTS - Keeping up on colour trends!
To keep on top of colour trends we review and chart what colours are selling each season and it makes a pretty interesting read for us and our stockists.
January to June saw high sales in the traditional blues, greens, greys and black with clear being the most popular across the retail ranges. A lot of bright vibrant colours were in positions 5 – 10 of the top selling colours with reds, purples and pinks being the most favoured.
July has seen many of the firm favourites still topping the charts with a swing towards more muted soft colours rising in popularity, such as Silver Fir & Silver Grey, Soft Sage and Parsonage Cream. We're looking forward to seeing how the change in weather will affect what colours will be ascending the charts next month.
Win with Wood Competition 2013/14
Win With Wood is now going to be an annual competition running from August to July with a top first prize to be announced and runners up prizes of discount vouchers for the online shop. We have had numerous fantastic entries over the years but unfortunately we simply keep on running out of time to fit everything in to our busy Protek lives and we want to ensure that we give plenty of time to administering the competition and sourcing a fantastic 1st prize.